Mechanical Systems
Solar Thermal/Geothermal
Green Plumbing and Mechanical
Green Plumbing & Heating
Arizona high school utilizes solar cooling
Solar cooling project beats Arizona heat.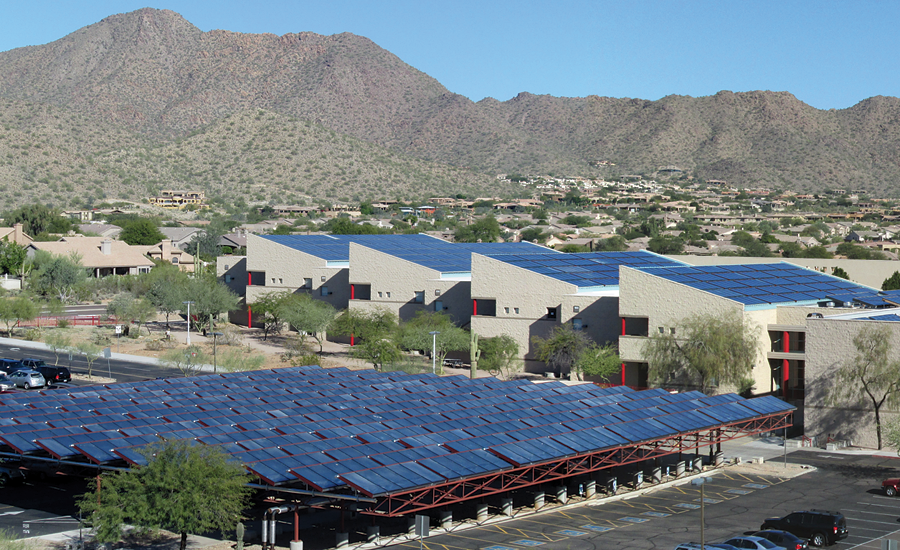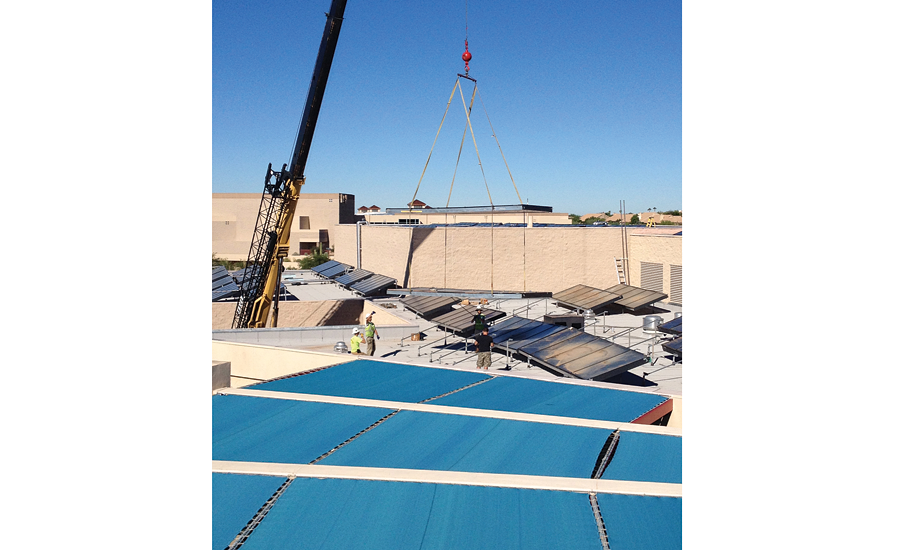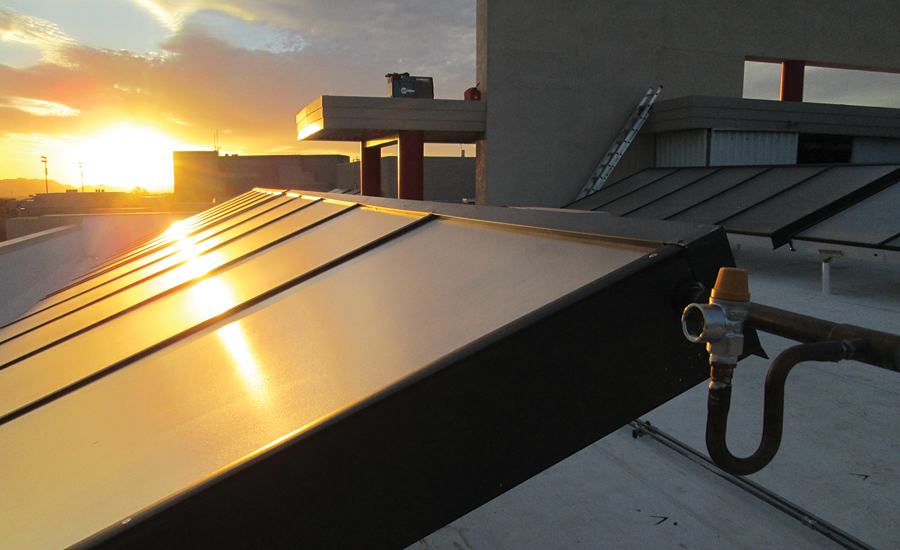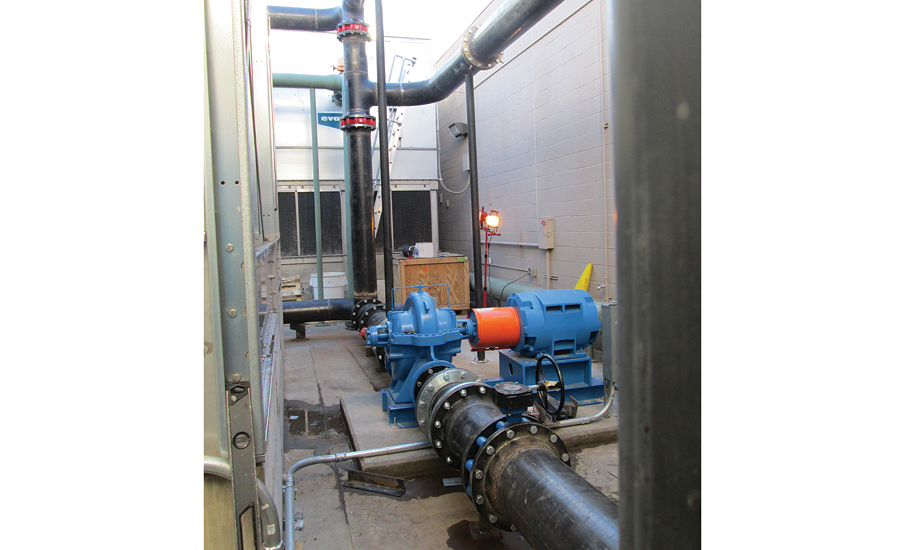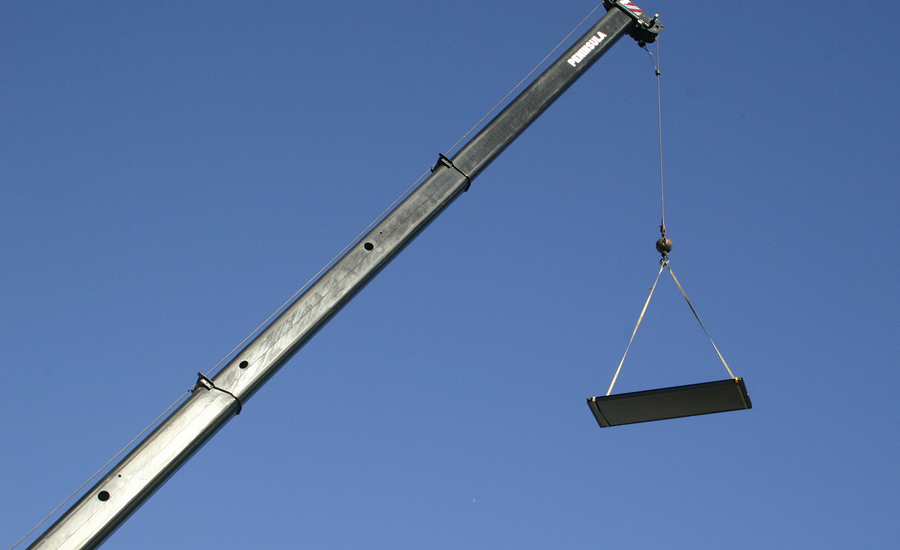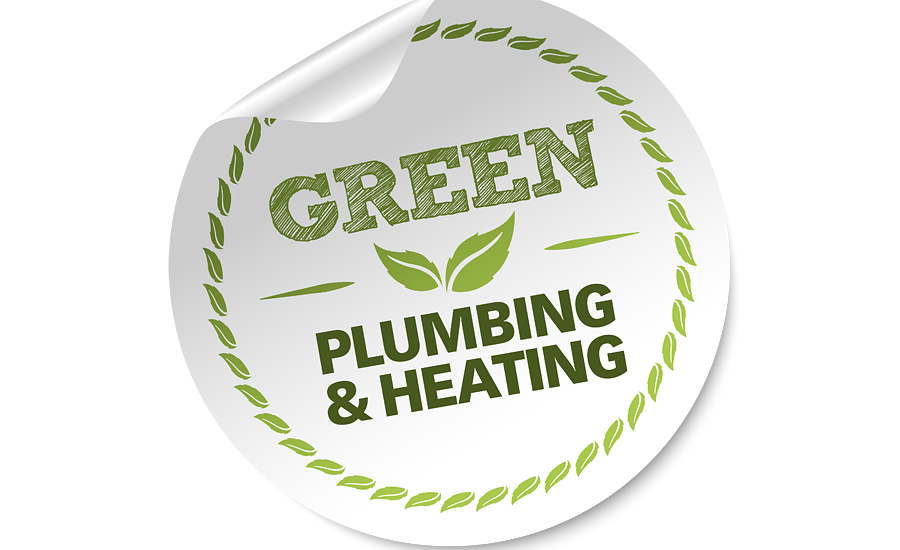 On the outskirts of the Phoenix metro area, one high school has harnessed the power of the intense desert sun to provide up to 100% of the facility's cooling needs during the hottest months of the year. The solar cooling project is the largest of its kind in the U.S. and won the 2016 Intersolar Award for Outstanding Solar Projects.
A 'perfect partnership'
In 2010, Scottsdale Unified School District in Scottsdale, Arizona, began exploring cooling options for Desert Mountain High School, which is home to 2,600 students.
"The school district was very interested in sustainability and renewable energy but needed to spend its budget on education," said Johannes Luttenberger, chief operating officer of S.O.L.I.D. California, the stateside arm of Austria-based solar company S.O.L.I.D. "So, we developed a PPA [power purchase agreement] and invested in the solar plan ourselves."
In order to complete the project, S.O.L.I.D. needed a design and construction partner in Scottsdale. Adroit Energy fit the bill.
"Adroit Energy is a highly innovative company with more than 30 years of experience in the renewable energy sector; they are able to deal with complex technical solutions," Luttenberger said. "Both S.O.L.I.D. and Adroit Energy believe in the high potential of solar thermal applications. It is the perfect partnership to push the solar thermal market."
Justin Weil, president of San Diego-based Adroit Energy, agrees the partnership between the two firms has been a very positive one.
"We kind of knew each other, so they came to us and said, can you give us a hand? And it was totally awesome," Weil said. "They're very engineering-intensive, so we felt very comfortable about how the system would perform and that the client would get the returns that they had expected."
Weil said he was impressed with S.O.L.I.D.'s thoroughness.
"They create their own programs, and they're always within 1% of what they expect on their projects," he said. "They're an amazing company to work with, and they're way more advanced in this particular field because they've been doing it longer. It was really fun and educational to work with them."
How it works
The system harvests solar heat to run an absorption chiller that cools the whole facility. The school features 50,000 square feet of solar collector area and a cooling capacity of 1,750 kW/500 tons, and while 40% of the collectors are placed on typical flat roofs, two groups at 30% each are mounted on sloped roofs and on an elevated structure above parking places. S.O.L.I.D estimates the annual solar energy yield is 3.9 GWh.
"Our high-temperature flat-plate collectors are able to produce hot water up to 210°F in an efficient way," Luttenberger said. "This solar-generated heat is used to operate an absorption chiller. The BROAD single-stage Lithium-Bromide absorption chiller with a nominal cooling capacity of 500 tons is operating on full load during the hottest hours of the day, cutting down peak loads by pre-cooling the backflow from the air handling units. During morning or evening hours, when the chiller is supplied with solar hot water between 150-170°, it still delivers under partial load a relevant portion of the building's cooling demand."
"What's really neat is the cooling demand of this school matches the solar," Weil said. "It's directly influenced by the solar gain, so the more sun that hits the school, the more capacity the chiller has to make chilled water."
Before beginning construction, Luttenberger said S.O.L.I.D. worked with the school district to determine the building's energy demand.
"The design of a solar thermal application is always based on the energy demand of the client, avoiding any overproduction by the system," he said. "The school district was very supportive regarding necessary data analyses as well as discussion of the best final solution."
While Luttenberger could not divulge exactly how much money the district is saving through solar cooling, he did say the 500-ton absorption chiller can cover "up to 100% of the cooling load during the summer months" at the school. Over the rest of the year, the system is designed to cover the base cooling load, which is 40% to 50% of the total cooling demand.
Barriers to adoption
While solar installations like the one at Desert Mountain High School are commonplace in many parts of Europe and Asia, they have been much slower to catch on in the U.S. due in part to the higher installation costs as well as to a general lack of knowledge of the technology. To combat both of these barriers, S.O.L.I.D. has worked with U.S. partners to provide affordable financing options and increase public awareness.
"The solar industry struggles with upfront costs for projects — the capital expenditure to build the system — but there are many solutions for that now," Weil said. "That's how solar has taken off. There are financing options and PPAs where a financial institution builds the system, which is what happened here. Someone else pays for the system and receives the credits, then sells the energy to the school at an agreed-upon rate. The contracts are usually 10-20 years, so it's not just free, but that's how many commercial solar projects are done these days, and that's how you overcome the hurdle of the high capital cost. There's no money out of pocket for the school."
Total costs for the turnkey installation at Desert Mountain High School, including financing costs, were $10 million, Luttenberger said.
"It was financed by the civic participation model [between] S.O.L.I.D. Invest and RB International Finance USA. The system is owned by S.O.L.I.D. DMHS ESCo, which is operating the system and refinancing the investment by selling harvested energy to the school and receiving public support, as per locally applicable regulations."
Utility company Arizona Public Service is supporting the system in a performance-based way, Luttenberger said.
"The payment is given per metered energy harvest in quarterly payments over a period of 10 years. This guarantees that only well-performing systems with a positive long-term experience will receive public support," he said. "On the other hand, the utility itself benefits from the fact that solar cooling is reducing peak loads on the electricity grid that typically occur during the sunny daytime hours. In the arid desert climate, it is typical that up to 75% of all electricity production is needed for air conditioning."
To spread awareness of the technology and its affordability, S.O.L.I.D. regularly participates in different national and international events, workshops, and research and development projects.
"Our partners, like Adroit Energy, are helping us educate the American public about solar thermal technology through educational presentations," Luttenberger adds. "Spreading the news about this project's efficiency and technology here in the U.S. is another effective way to bring awareness to the public."
Weil agrees that awareness and education are imperative to promoting solar cooling, especially among mechanical contractors.
"In the U.S., people in the industry know about these types of systems, but they're not always educated on them, and they're still a little skeptical because they don't see it as often here," Weil said. "The big hurdle in the U.S. is education and understanding that you can do this and make cold water from heat. It's funny to think that just 70 years ago, everyone you talked to would understand this technology, and it would be how you'd cool your home if you could afford one."
Luttenberger reiterated how honored S.O.L.I.D. is to receive the 2016 Intersolar Award for Outstanding Solar Projects and said he hopes the award will help increase awareness of solar heating technology, which he anticipates will only continue to grow in the U.S. and abroad.
"The renewable-energy market has experienced strong growth and is getting more and more government support all over the world," he said. "Solar thermal hot water and cooling are creating savings of conventional heat energy source, electricity, and electricity demand charge on-site. We can store our energy easily and use it in a matched way based on the customers' energy demand profiles without burdening the electricity grid."
This article was originally titled "Solar cooling project beats Arizona heat" in the November 2016 print edition of Plumbing & Mechanical.


I want to hear from you. Tell me how we can improve.