Webstone Showroom
Pro-Connect Push & Universal Connections Made Simple

First, the Pro-Connect Push is a complete line of full port forged brass ball valves & fittings with easy push-on connections, designed specifically for use in COPPER, PEX, and CPVC systems. These valves are forged from dezincification resistant brass, and are cUPC certified to NSF/ANSI 61-8, making them ideal for use in potable water and hydronic heating systems. Each valve comes packaged with a pipe removal tool, but what really makes the Pro-connect Push unique is the fully removable and replaceable grip assembly — This unique feature represents the only fully repairable and replaceable push valves on the market today.Push & Press connections are among the most innovative products to appear on the market in recent years. Suitable for a host of applications, they are slashing the time required to assemble a wide variety of plumbing and hydronic systems. Webstone is on the forefront of this transition with our versatile line of Pro-Connect valves and fittings, featuring two distinct connection options.
The second option, Pro-Connect Universal is an award winning line of high-quality brass valves that allows for quick and easy connections with many common press-type water-distribution fittings as well as standard copper sweat or push fittings.
Virtually every Webstone valve with sweat connections is offered with a Pro-Connect Universal connection — including Ball Valves, Gate Valves, Swing Check Valves and Globe Valves in dozens of sizes and with many special features.
To install the universal connection, a copper nipple is machine soldered into the valve of your choice extending 2 inches on each side allowing the male end to be connected or crimped with any standard press-type fitting. The copper nipples are cleaned and outfitted with a protective cap on each end, preserving the integrity of the tubing during shipping and handling. This way, every Pro-Connect Universal valve will arrive at the job site cleaned, polished and ready for a fast, simple installation.
Best of all, Pro-Connect Universal valves allow for a single stock item on the installers truck because they can be connected by press, push or solder — whatever the situation requires. This is really the wholesalers' UNIVERSAL answer to the contractors need! How many press-type valves can offer the installer this level of flexibility on so many valve models? The answer is: Only Webstone.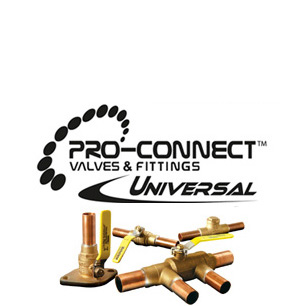 For more information, please contact us at:
One Appian Way
Worcester, Massachusetts 01610
Phone: (800) 225-9529
Fax: (800) 336-5133
Email: info@webstonevalves.com
Web Address: www.webstonevalves.com