tekmar Control Systems Showroom

The Company
tekmar Control Systems Ltd. Canada and tekmar Control Systems, Inc. USA are well established companies in the global marketplace with experience and focus in the hydronic heating industry. Our controls are researched, developed and manufactured in North America.
tekmar is a market driven company that listens to its customers. From our market experience, we continuously develop new control technologies to simplify the design and installation of hydronic heating controls.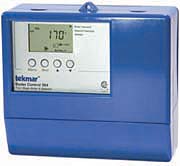 Boiler Controls 264 & 268
Boiler Supply and Return Sensors
Characterized Heating Curve
Outdoor Reset and Setpoint Operation
Boiler Differential (Automatic)
Fire Delay Setting
Boiler Mass Setting
Combustion Air Damper or Alarm Contact
1, 2, 3 and 4 Stage Boilers
Lo-Hi-Lo or Lo-Lo-Hi-Hi Staging
Fixed Lead and Fixed Last Options
System and Boiler Pump Contacts
Individual Boiler Purging
Equal Run-Time Rotation
Boiler Control 264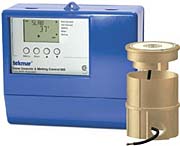 Boiler Control 268
Up to 9 Boiler Stages
BAS/EMS Input (0-10 V (dc)
Snow Detector & Melting Controls 665 & 667
Automatic Snow/Ice Detection
Slab Outdoor Reset
Temperature Display
Remote Start/Stop Capabilities
Single Zone Operation
Snow Detector & Melting Control 665
On/Off Operation (Pulse Width Modulation)
Separate Relay Outputs for: Melting, System Pump, and Heat
Snow Detector & Melting Control 667
Variable Speed Mixing Output
Separate Relay Outputs for: Melting, Two System Pumps, and Boiler
Slab Thermal Stress Protection
Boiler Condensation/Thermal Shock Protection
Control Schools
With the increasing competitiveness in the marketplace, quality training is what will set you apart from others in the industry. A few hours of classroom training can save you several hours of frustration and call backs in the field. Training is an investment in yourself that will quickly pay for itself. Whether you install, sell or specify controls, getting the proper control selected and installed properly the first time is critical.
For more information, please contact us at:
5100 Silver Star Rd.
Vernon, V1B 3K4
Phone: (250) 545-7749
Fax: (250) 545-0650
Web Address: www.tekmarcontrols.com