Ideal Division Showroom
If Ideal No-Hub Couplings look familiar, it's because they are.
For more than 30 years, Ideal has been manufacturing no-hub couplings for the biggest and most recognized names in the business. Ideal couplings are listed or certified by all major plumbing-code bodies throughout the U.S. and Canada, and conform to CISPI standard 310 and ASTM C1277. Ideal's engineers have pioneered such innovations as our patented bi-directional corrugated shield and 12- and 15-inch couplings. In fact, Ideal is one of the world's largest manufacturers of no-hub couplings and industrial fasteners.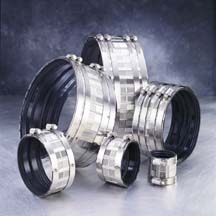 "Floating eyelets" fasten the clamps to the shield, allowing the clamp band and shield to move independently. This prevents the shield from crimping during tightening, which can lead to leakage later on.What sets Ideal No-Hub Couplings apart from others?
A patented shield design with bi-directional corrugations adjusts to differences in the circumference and outside diameters of the pipes being joined, eliminating gasket wrinkling and thereby eliminating leak paths. These bi-directional corrugations also create sealing pressure in both parallel and transverse patterns on the gasket and pipe, thereby avoiding pull-out failures and providing a positive, reliable seal.
A one-piece screw housing mechanically interlocks the clamp to the band. This one-piece housing design eliminates leak paths that can occur in staked or welded clamps, and cannot come apart under load.
The specially beaded gasket mates with the shield and clamping forces for superior sealing pressure and holding power. Ideal gaskets comply with ASTM C564.
All Ideal No-Hub metal components are made of 300 series Stainless Steel.
For more information please contact us at:
3200 Parker Drive
St. Augustine, Florida 32084
Phone: 800/221-0100
Web Address: www.idealclamp.com
www.no-hub.com