eBay Showroom
Construction equipment on eBay? Of course! Whether it's surveying equipment, compressors or generators, eBay has everything you need, usually for much less. But don't take our word for it. Listen to what Gregg Hensler, Owner of Hensler Construction (of Greentown, Ind.) has to say: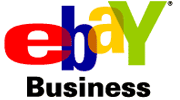 "In the past, there was a lot of equipment I wanted to own but simply couldn't afford. Then I discovered eBay. Since then, I've purchased dry-wall stilts, a concrete saw and even a skid steer -- $11,000 worth of gear in all -- for less than $7,000. Now I'm able to bid more aggressively for a wider variety of jobs. And in the end, that's more money in my pocket."
With 75 million users, eBay is The World's Online Marketplace. Our Q1, 2003 activity might surprise you:
Over 21,000 contractor tool items sold, including concrete saws, hammer drills, saw blades, surveying equipment, pressure washers and other air and power tools
Over 20,000 industrial supply/MRO items sold, including compressors, generators, pumps and forklifts
Over 5,700 construction equipment items sold, including skid steers, backhoes, dozers, excavators, attachments, parts and related items
Buy on eBay
You can find thousands of great deals on new and like-new contractor tools, light and heavy equipment, and attachments from major brands including Stihl, Makita, Bosch, Clark, Hilti, DeWalt, Ingersoll-Rand, Rigid, Caterpillar, Deere, Case, Bobcat, Yale, Onan, JLG, Genie and many others.
Sell on eBay
List your excess inventory on eBay to reach contractor buyers far beyond your local community and quickly convert excess inventory into cash. You can sell through:
Online Auctions -- sell to the highest bidder, with or without a reserve price
Fixed Price Listings -- sell to the first buyer willing to pay your price
An eBay Store -- sell at a fixed price with longer listing periods
Listing fees range from $0.30 to $3.30 per item. When your item sells, eBay charges a fee as low as 1.5% of the final value of the item.
For more information, please contact us at: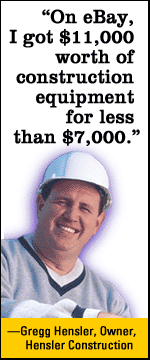 2145 Hamilton Avenue
San Jose, California 95125
Website: www.ebaybusiness.com