Estimation, now Maxwell Systems Showroom
Estimation's ToolBox Wins First Place at the ISH Show Awards
Estimation, Inc., a leading provider of computerized solutions for contractors, is proud to announce receiving the 1st Place Prize for the "New Product Showcase" at the 2006 ISH North America Show in Chicago. This highly sought after Honor was decided upon by a select group of industry experts, in which Estimation walked away with 1st Place in an intense competition with eight other Software and Business Efficiency Products.
ToolBox is a comprehensive set of Tools designed to help you manage, analyze, and store your Bids, Jobs, Submittals, RFIs, Change Orders, etc. It is a contractor's 'software toolbox' containing all the necessary software solution tools to assist you with your document management/storage and analysis process. Did you ever wonder why you won or lost a Bid or what made the Job over or under budget? ToolBox stores all the entered data for your Pre-Bids, Current Bids, Lost Bids, Won Bids, and Jobs allowing you to generate Reports for tracking the history and analyzing the Estimate, Bid, and Job Data. Also included is a Document Management/Storage program for Submittals, RFIs, Change Orders, Correspondences, and Contacts.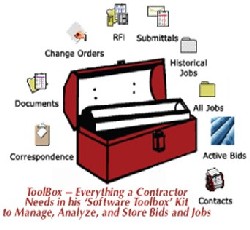 It allows you to:Why use ToolBox?
Track the Due Dates of Bids so that you don't miss out on the opportunity.
Track the Expiration Date of Blueprints so that you can return them without paying a fee.
Track the size, number of floors, footage, etc. on your Jobs so you can have the important analysis and data history for your project management needs.
Track Data to provide Analysis Reports to determine the factors involved in the bids you won versus the bids you lost (i.e. size of projects, the competition, type of jobs -commercial vs. government, etc.). This will provide you an analysis of your bidding history to ascertain if there is a pattern providing you valuable intelligence to help you in your bidding process.
Track your Job Status for projects in progress, on hold, important deadline dates, contract extensions, etc.
Check Change Orders to determine when a request was made, approved, resubmitted, or denied.
Track if the completion date extends the original due date of the contract.
Track if it is a time & materials job verses a project based.
Why is it Cost-Effective?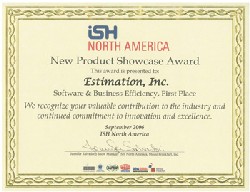 The old saying "Time is Money" stands true to date. Think of all the wasted time, hence money, you have spent searching for your various files (bids, jobs, submittals, RFIs, changes orders, contacts) or trying to analyze what happened. Why did you lose or win that bid or why was a job over or under budget? ToolBox tracks the data and provides you with this priceless analysis to help you with your decision making process.
What are the Additional Benefits of ToolBox?
Toolbox manages and organizes your various project documents so that you can easily reference needed files associated with a Job by:
Linking Spec Sheets to Submittals to RFIs.
Linking the POs to Excel Sheets to Change Orders.
Linking to MS Outlook Contacts.
For more information, please contact us at:
1000 First Ave, Suite 200
King of Prussia, Pennsylvania 19401
Phone: 800/688-8226
Fax: 610/277-2081
Email: info@maxwellsystems.com
Web Address: www.maxwellsystems.com