Superior Drain Odor Control Quiz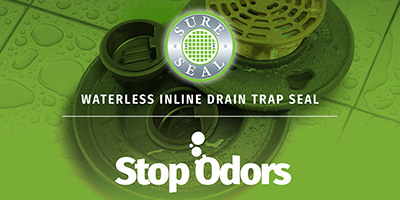 SureSeal® Inline Floor Drain Trap Sealer is the green solution for drain odors where trap primers fail or loss of trap seal thru evaporation occurs. Replace failed trap primers and eliminate odors quickly and easily with a simple friction fit installation, 2", 3", 3.5" & 4" sizes, universal fit for all manufacturers drain models. Water saving and economical solution to stop drain odors and bugs from entering thru drain. Patented pressure relief and valve prevents air lock within plumbing system. Patented memory hinge and thick durable membrane provides superior seal with a 10year warranty. Tested to the ASSE 1072 standard, ICC-ES Report OMG-1070.
rectorseal.com/sureseal
Do you want to test your Odor Control knowledge? Take this 12 question quiz put together by Plumbing & Mechanical to see if you are a superstar or need to go back to the classroom.
Superior Drain Odor Control Quiz
1. Why do floor drains emit odors?
A. Chemicals in the drain
B. Dry "P" trap
C. Broken trap seal
D. B and C
Answer D The water in the "P" trap creates a seal between the sewer system and the open air and prevents sewer gas and odors from entering work and living spaces..
2. Are trap seal protection devices allowed by code:
A. Yes
B. No
Answer: Yes, IPC 2015.
3. Why is the loss of a trap seal drain dangerous? Select all that apply.
A. Bugs can enter the building
B. Sewer gases are released
C. Water evaporation
D. Strong odor
Answer: A and B, though water evaporation and strong odor is a concern it is not dangerous to one health as bugs entering the building carrying diseases and sewer gases are know to contain Hydrogen sulfide, carbon dioxide, nitrogen, sulfur dioxide and other gases and carry airborne pathogens, corona viruses, SARS and other threats..
4. How is SureSeal eco-friendly?
A. No chemical solution
B. Reduces waste water
C. Lowers water bills
D. All the above
Answer D, Sureseal is a green product that reduces use of potable water, reduces waste water flow through sewage treatment plants and introduces no foreign elements into the environment..
5. Does a barrier seal product take the place of a trap?
A. Yes
B. No
Answer B. A trap is still required but SureSeal eliminates the need for a trap primer. In some jurisdiction and new construction SureSeal can be substituted for trap primers..
6. The Code states that traps can not have mechanical devices in them
A. True
B. False
Answer A True. SureSeal complies to the code, the mechanics is placed in the throat of the drain body and isn't in the trap..
7. All barrier seal products on the market meet the ASSE 1072 standard.
A. True
B. False
Answer B False. Some have never passed the test. SureSeal has passed the test. .
8. How many ounces of water per the ASSE 1072 standard is required to open the membrane of a barrier seal product?
A. 6 ounces
B. 4 ounces
C. Minimal amount
D. 2 ounces
Answer C. The ASSE 1072 testing is to determine that the device will open when there is a minimal amount of water on the membranes of a barrier product with hot and cold water testing alternated, tested 2500 times. Sureseal not only passed this part with less than 4 oz of water but also passed the floor wax test and grease test creating a seal every time..
9. Trap Primers fails because…
A. Blocked by scale or corrosion
B. Evaporation
C. Erosion or tampering by animals
D. All the above
Answer: D all the above.
10. Can SureSeal work in non-floor drain applications?
A. Yes
B. No
Answer: Yes. While SureSeal is designed, tested and certified for use in the drain outlet of an ANSI/ASME A112.6.3 conforming floor/shower drain, they can be successfully used in other applications under certain circumstances, performance may vary..
11. The following are required to properly install SureSeal into a floor drain:
A. Silicone sealant
B. Special tools
C. License or special skill
D. None of the above
Answer: D none of the above. SureSeal requires no special tools or skills. Simply friction fit into the drain throat..
12. SureSeal is designed to be installed in both retro -fit drains or new construction drains.
A. True
B. False
Answer: True. SureSeal can easily be installed in both existing drains or new floor drains as the need for a trap seal device is needed to eliminate drain odors and bugs. . .
Thank you. You passed!
Sorry, you did not pass. Please try again.