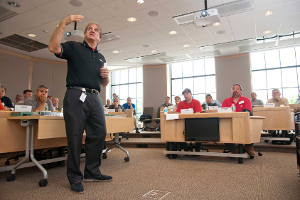 Taco's John Barba conducts a class at the company's new training center.
Taco's FloPro University has a new factory training program: "Residential Hydronics: Advanced Soup to Variable Speed Nuts." In this class, John Barba (pictured), residential training/trade program manager, guides attendees through every step of designing and installing an efficient, modern residential hydronic system, including:
Heat loss: How to determine the heat loss of any structure and understanding the essential building block for all hydronic systems — the Universal Hydronics Formula.
Circulator sizing: How to choose the best circulator for every job, pipe sizing, air control and near-boiler piping, including trunk and branch systems, one-pipe primary-secondary layouts, "moose antler" piping and hydraulic separators.
Low-voltage wiring: Learn the pros and cons of zoning with zone valves versus zoning with circulators.
Domestic hot water systems: Ratings, output and spec sheets, and optimizing indirect system performance.
Operating costs: How to decide whether to replace or improve a system, and five ways to make any system more efficient.
Like all FloPro Factory Training courses, "Residential Hydronics" focuses on real-world solutions to the problems contractors encounter daily in the field and offers ample opportunities for hands-on learning, plus plenty of interaction with the instructor and classmates.
Taco is offering its next factory class Oct. 24-25 in Cranston, R.I.
Tuition only, hotel accommodations not included: $119
Tuition plus one night's hotel accommodation: $209
Tuition plus two nights' hotel accommodation: $289
Tuition plus three nights' hotel accommodation: $379
According to Barba, multiple field training dates are scheduled for Multiple field training dates are scheduled for Denver; Fort Collins, Colo.; Pueblo, Colo.; Fargo, N.D.; Duluth, Minn.; Chicago; Salt Lake City; and northern California. Interested trade professionals should contact their local Taco rep for information.
 For all details and to register for classes, visit Taco's website at http://flopro.taco-hvac.com/training2013.html