I always seek out the Bradford White booth to see what's new and visit with friends both old and new. It was fun catching up with Carlos Morales because we had worked closely together several years ago in the development of the company's gas-fired tankless water heater line. Lois and I had the opportunity to beta-test a number of tankless models and report back on their performance. Stability of delivery temperature; showering while other hot water usages ran simultaneously or intermittently; and, of course, attempting to max out the full-flow capacity.
Then we were introduced to Nate Warren who detailed the many advantages presented by the Infinity GS and GR tankless water heaters. Cascade racks are available to make your multiple tankless installations faster and easier and communication between your tankless team players is incredibly easy (installer-friendly). For those customers who worry about our planet, these tankless models are green-rated and Energy Star compliant. The GR series incorporates an onboard circulator for DHW recirculation: not only endless hot water but instantly available to those distant points of use. If you happen to live in an area where the AHJ (Authority Having Jurisdiction) says your customers cannot have a gas appliance, no worries because Bradford White has your back with their KwickShot line of electric tankless water heaters.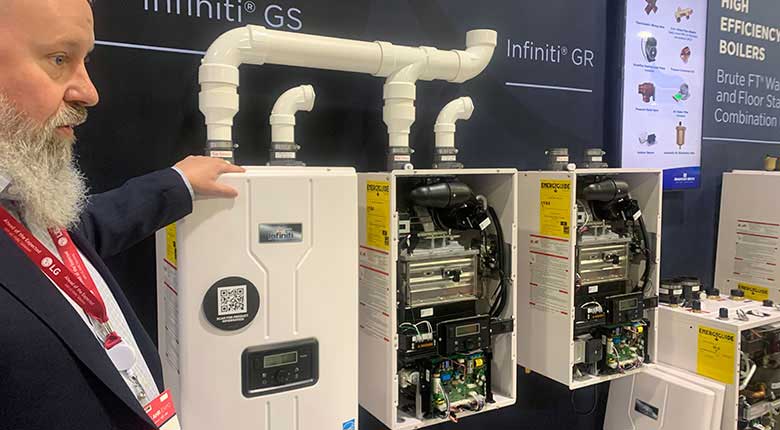 Given the current emphasis on all-things-heat-pump, the Bradford White's Aerotherm water heater caught my eye. Julian Ferrante provided a guided tour of its features, and you can now connect with this heat pump water heater remotely. (Throughout the AHR Expo, connectivity with the products was a common theme.) Another benefit is the product has up to $2,500 available in rebates and tax credits. Always an innovation-driven company, Bradford White developed Microban that protects your customers from bacterial amplification, mold and mildew forming on the surface of the Vitraglas lining and is incorporated on all of their tank-style water heaters.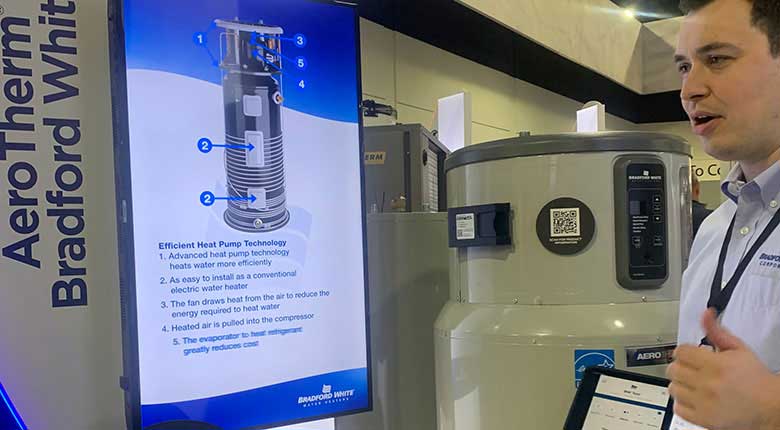 New product: Mikrofill 3
I met up with Stewart Martin who went over the Mikrofill 3 advanced control system that electronically monitors hydronic sealed system pressure and incorporates leak detection alert capability including protection from flooding. Now you can promote sales by adding a level of protection from water damages to building infrastructure, flooring, and fixtures.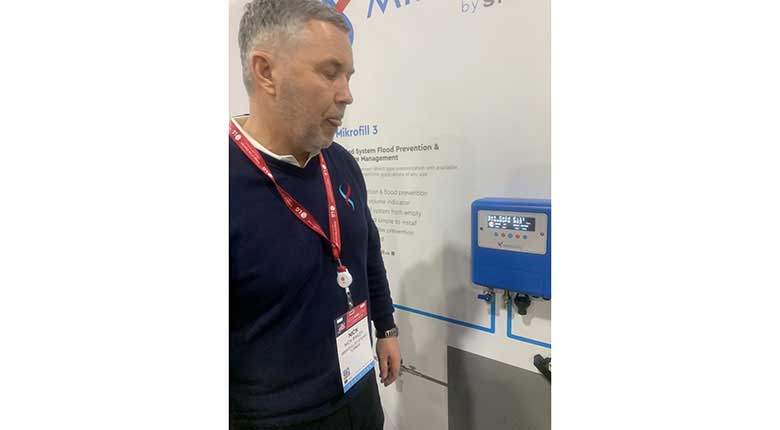 AHR never fails to showcase new and innovative products you can incorporate into your businesses. Attending AHR has always enhanced our bottom line and kept my firm at the leading edge of technology.
Features include:
Leak detection and flood prevention;
System fill volume indicator;
System filling and pressure management;
Integral backflow prevention;
Compact and simple to install;
System status and fault code display;
BMS capability;
Low power consumption;
The ability to fill directly from mains/boosted water supply any LPHW or CHW system from empty; and
Comprehensive electronic pressure management.
Energy efficiency on full display
Taco always has an outstanding booth showcasing their latest and greatest products. Energy efficiency has become the be-all to end-all at Taco with a full array of ECM circulator technology featured. Of course, its AHR award-winning System M air-to-water inverter heat pump held center stage this year, as it should. Exceptionally installer and user-friendly, System M can dramatically boost your bottom line.
With the growing emphasis on going to all-electric HVAC systems, these inverter (variable speed) heat pumps are incredibly efficient and miserly where energy consumption is concerned. Enhance your bottom line while dramatically slashing your customers' energy costs and provide them with the ultimate in comfort: everyone wins. This year's opening press conference on the trade show floor included a very touching tribute to the memory of John Hazen White III, who passed suddenly at the age of 35, given by Dan Holohan whose wife, the Lovely Marianne, also passed on suddenly. There wasn't a dry eye in the audience.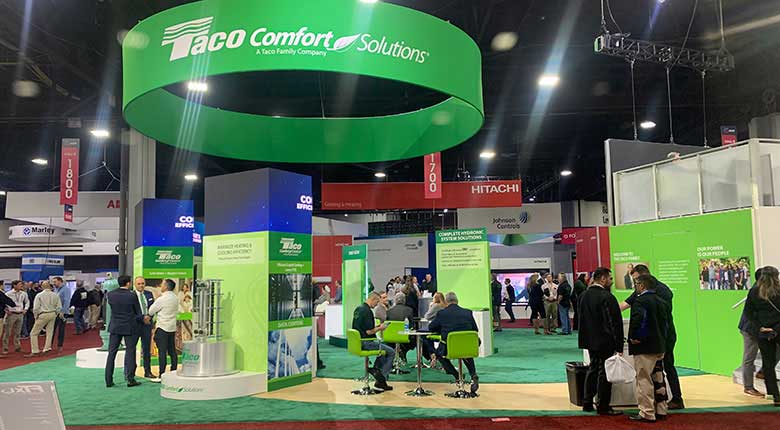 Catching up with Taco After Dark's John Barba is always entertaining! A fellow Carlson Holohan Industry Award of Excellence recipient, Barba is one of our industry's best educators who is a master at weaving humorous tales from his years as a mechanical contractor into his teaching. Given half a chance, Barba will focus intently on any of the Taco products you want to know about and with the exuberance of a child at Christmas opening a gift will proceed to extol its virtues.
The Taco hospitality party is the stuff of legends! Much coveted and one need only request a wristband for entry to an evening of gastronomical delights — starting with a large table piled high as a mountain with jumbo shrimp. Johnny White is a most gracious host who, I swear, manages to talk with each and every one of the thousands who attend. It's also like old home week when there because so many industry friends appear at every twist and turn.
Here are my personal top-10 reasons for attending AHR (and other trade shows):
10: It's a great excuse to buy new very comfortable shoes! Legitimate business expense. On average, I hit between 15,000 to 25,000 steps each day. Sore feet, but happy heart and mind overflowing with new ideas and knowledge.
9: Having an issue with a manufacturer's product? They will fall all over themselves to resolve whatever problem you're having. Trust me on this one because I have been there, done that.
8: Even though the internet has given you far greater access to manufacturers than ever before, visiting their booths and meeting the folks behind the products has proven to be invaluable time and time again.
7: You will see and be exposed to things you most likely would never see otherwise, which will broaden your knowledge base. I always came away with new ideas and the desire to incorporate new products for our customers. Want to separate yourself from the local competition? This is one of the best ways to accomplish that goal.
6: Seminars, certifications and in-depth product classes. Some actually take place during the trade show front-and-center in the manufacturers' booths. Others will be in classrooms or lecture halls. If you have other members of your business attending with you, divide and conquer! The more you learn, the more you earn.
With the growing emphasis on going to all-electric HVAC systems, these inverter (variable speed) heat pumps are incredibly efficient and miserly where energy consumption is concerned. Enhance your bottom line while dramatically slashing your customers' energy costs and provide them with the ultimate in comfort: everyone wins.
5: There are hospitality events every night. Don't be shy about asking the manufacturers about attending them during booth visits and the events are a great way to meet new old friends.
4: All your costs, within reason of course, are legal business expenses. Save all receipts to document the expenses. The money invested will return tenfold when you apply the new information you'll take home.
3: If you can, take some time to sightsee if you haven't traveled to that city previously. My wife and I often stay an extra day for this purpose and have had some awesome experiences we never would have enjoyed otherwise.
2: Training. Expect jam-packed days of learning about products and get the training needed to properly install, troubleshoot, and then use that to promote yourself while establishing trust, which will enhance your close ratio for sales.
1: My No. 1 reason for attending trade shows? It's the people. Brand loyalty is not based on the product nearly as much as it is on the people behind the products. It all boils down to relationships. People-watching is outstanding too and you'll see folks from all walks of life.