Unless you run a specialty firm that services a narrow niche of the plumbing business, you probably will become involved with drain and sewer cleaning at some time in your career. While there are plenty of issues to consider when doing this type of work, the ability of a plumbing company to offer a full range of services to customers means a stronger bottom line for your firm and more repeat business from satisfied customers.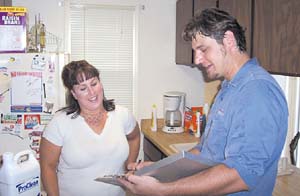 APD's Jason Goulet finishes up at customer's home.
"Service and repair plumbing companies still should do drain cleaning and should know more about it than they do," said Eddie Edwards, president of the Drain Surgeon in Van Nuys, Calif. "Although I wouldn't recommend starting a drain-cleaning-only company today." Edwards said customers have little time these days and generally seek full plumbing services, mostly because of today's quick-fix society.
Health and safety issues come into play when working on drains and sewers, said Brian Willetts, owner of A-1 Septic and Power Rooter Service LLC in Roseburg, Ore. "It's important for you and your employees to get inoculated to protect against the hepatitis-B virus," he said. "With drain and sewer work, you are looking at the potential for blood-borne pathogens and lots of bacteria."
Edwards agreed. "Blood-borne pathogens may not be as much a risk in single-family residential homes as they are in structures like hospitals and medical centers," he pointed out, "but they still may be present."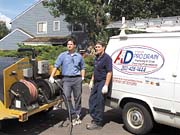 APD's Jason and Gary Holley get ready to jet a complex main.
Edwards provides his employees with surgical gloves to wear under their work gloves, goggles to shield their eyes from splashes, and dust covers for the nose and mouth. The Drain Surgeon also provides hepatitis-B series shots for its employees who choose to get them. "It is important to stay in compliance with OSHA (Occupational Safety and Health Administration)," he added. "So we keep our material safety data sheets (MSDS) up to date, as well as any other required reports and papers."
Gary D. Holley, owner of American Pro Drain in Littleton, Colo., said drain and sewer cleaning is "bread and butter" for his company of three on-staff plumbers and four subcontractor plumbers working the Denver metropolitan area. "Being in service work can be very gratifying in general," he said. "There's customer contact and problem solving, and the pay can be quite good on an hourly basis."
But there are drawbacks too. "It doesn't matter if it rains or shines, we're out there in crawl spaces and attics, climbing on roofs, trying to solve the problems," said Holley. "Health hazard is the number one drawback in drain and sewer cleaning work. Getting hurt or injured when doing this work is not out of the ordinary."
Holley makes sure his plumbers are protected as much as possible when servicing drains and sewers. "We use latex gloves when we are handling any part of a sewage line," he said, "and we always wear safety glasses to prevent splashes from getting into our eyes. In fact, when we do mortuary drains, we use full protective plastic suits to encase the employee."
Mike Motzkin, president of Pioneer Plumbing in Tucson believes two of the biggest problems facing plumbers doing drain and sewer cleaning work revolve around the potential health hazards and the potential for injury. "A plumber needs a lot of experience to do drain and sewer cleaning work properly," Motzkin said. "These are pretty powerful machines that we're working with and if a plumber isn't careful in his work, he could easily lose some fingers."
Likewise, he noted, the potential health hazards pose a problem mostly due to blood-borne pathogens. "We have a couple of mortuaries as regular clients and sometimes have to clean their sewer drains," he said. "Of course, blood from bodies is drained into the sewer line, so there's a hazard. We make sure our plumbers are gloved up with latex gloves, and wearing safety glasses and masks."
Holley, who has done confined space work in the past, feels that the OSHA regulations are pretty straightforward when applied to drain and sewer work. "Sometimes crawl spaces under houses can be worse than confined spaces," he said. "Most crawl spaces aren't maintained very well. And if a sewer backs up into the crawl space for a couple of days before the customer notices it and calls us, then we have to crawl into that space in order to open up the drain."
Holley understands why some plumbers don't this type of work. "The machines we use to clean drains are not friendly in terms of easy mobility," he said. "Drain cleaning plumbers frequently lug 120- to 300-pound machines up and down stairs, sometimes three times a day. I wouldn't blame the average plumber for not doing drain cleaning."
However, learning the proper techniques to clean drains and sewers will go a long way toward a company's success. "There is a lot of training that's necessary in order to do a drain or sewer cleaning job well," Holley noted. "You have to know how to use your equipment safely, understand plumbing and how it works, know the starting and ending points of the line, and the dangers involved in shooting a cable too far. It takes a lot of hands-on training. It's not too difficult to ruin a $350 cable."
Experience counts for a lot in drain and sewer cleaning. Holley noted that the longer a plumber does that type of work, the more he learns and the better he gets. "It's also a lot of feel, but that comes from experience too," he said. "You're using a steel cable down a pipe and you can only guess as to what's going on inside. You actually won't know until you've put a camera down there."
Willetts agreed that the work requires a certain intuition. "When you're running a snake, you may not know what's going on out there unless you camera the line," he noted. "When a snake wraps up on a plug, whether its roots or some other type of blockage, you need to know when to back off. If you don't, you may wind up with the cable wrapped around your fingers."
A large part of running snakes on drain and sewer lines involves knowing something about the plumbing layout. "It's important to know how the plumbing was set up," said Willets, "and which way the lines run, where the elbows are, and the location of the cleanouts and open tees." Open tees can prove to be difficult for drain cleaners. "With an open tee that has a pipeful of water, you have to know how to make the cable go in the right direction," he said. "If you go back into the house, you can bust the toilet. Customers don't like cables thrashing around inside their house."
Willetts solves the problem by keeping in communication with someone inside the house. "If they hear the cable ticking at the toilet, they can tell me to change direction," he added.
Camera work goes hand-in-hand with drain and sewer cleaning, but you can't camera a wet pipe, said Willetts. "Once you get the line opened up, you might camera the pipe if you have a root problem to see how far out it is, and how difficult it will be to fix," he said. "A lot of older houses have Orangeburg pipe that gets flat spots. Sometimes you run the cable right through the pipe and come up in the front yard. You generally know where your problem is then, and replace the pipe."
Willetts, who specializes in rooter work, septic system maintenance, sand filters, pumps and septic tank vaults, offers a rule of thumb for drain cleaning equipment: For three or four-inch drain pipes, he runs a 5/8-inch cable. For 1-1/2 to 2-inch bathroom drain lines, he uses a half-inch cable; and for kitchen and tub lines, a quarter-inch cable or a hand-held power machine.
Willetts uses three different size Spartan machines to clean drains and sewer lines, running 75 feet of cable on his mainline machine. "Some other guys will only run 50 feet on their machines, but I prefer to have the extra 25 feet on [mine] so I don't come up short and have to thread on more cable," he said. "With 75 feet, I can get most of the problems. I don't want to see how much time I can spend at someone's house; I want to fix the problem and get out of there."
In Tucson, Motzkin and his full service plumbers are running between 75 and 100 feet of cable on the 3/8-inch and 1/2-inch cable drain cleaning machines and 75 feet of cable on the larger machines that they use to open up three and four-inch diameter and larger-sized sewer lines. "We carry extra drums that hold 75 feet of cable for the bigger machines," Motzkin said. "We find that most of the drain problems with residential lines revolve around roots in the pipe."
Motzkin has found that most sewer lines in town have some roots in them, although the roots usually don't cause problems during everyday use. "I can tell you why sewer lines usually plug up on a holiday weekend," he said. "People have a party and other folks come over to the house, putting a lot of extra use on the sewer line. With that heavier use, the roots in the line will tend to plug up, rather than allowing the water to seep through. It's not unusual for us to pull 18 feet of roots out of a sewer line that hasn't been cleaned in awhile."
The history of the drain cleaning specialty industry goes back to shortly after the end of the Second World War. "The drain cleaning industry began in 1947 with Roto-Rooter cleaning drain lines in Los Angeles," Edwards said. "[It] blossomed in the early 1970s when specialty companies developed to do hit-and-run calls. These are the things like a stopped-up sink, where the technician would handle 10 to 12 calls a day, and the invoices would be for small amounts of money. At that time--approximately $15."
In the last 20 years the number of companies who do only drain cleaning (rooter companies) have diminished greatly. Edwards said this decline is due to unscrupulous business tactics. "They did a lot of subcontractor work for plumbing companies, and many of them would [then] take business away from those companies," he said. "Basically stealing work away from the plumbing contractor by convincing the client to sidestep the plumber, leaving him out of the loop."
"Our company evolved from a drain cleaning company to a full-service plumbing company," Edwards said. "At one time we had a lot of property management firms as customers, but many of them were looking for discounting and invoicing services, and wanted to pay handyman compensation."
Edwards said the transition to a full service plumbing company has worked out quite well, although the firm name, The Drain Surgeon, harks back to its beginnings. "We constantly have to remind our clientele that we do full service plumbing work," he added.
Tom Carlisle of Employee Employer Assistance Programs in Tehachapi, Calif., companies should have a viable worker's injury program for two reasons: in order to treat employees properly and to keep workers compensation rates down.
"If plumbers are doing drain and sewer cleaning, they must be given the option of having the hepatitis-B inoculations, paid for by the employer," Carlisle said. "And we always recommend the plumbers use personal protective equipment. That means a protective barrier on their hands under their work gloves, and face shields or goggles to keep material from getting into their eyes."
As important as having a safety program in place, Carlisle maintained, is to keep employees thinking of safety on a regular basis. "Doing drain and sewer cleaning work is not a game, it can be life and death," he said. "The blood-borne pathogens that may be present in drains can be a hazard to your health, and that of your family too."
Proper training, the right equipment, providing for health and safety, and plenty of experience are the keys to doing the best job in drain and sewer cleaning. "Drain cleaning is absolutely worthwhile for plumbers," said Willets. "Many plumbers prefer the clean side of the business rather than the dirty side. But with the right equipment and training you won't have a difficult time cleaning drains. And the hourly rates are good too."
Free Inspections Build Business
You can't get anything for free these days, according to conventional wisdom. But The Drain Surgeon, a full service plumbing company in Van Nuys, Calif., has increased sales and customer satisfaction by offering a free inspection policy. Owner Eddie Edwards believes in solidifying relationships with his customers, and his free plumbing inspection is one way he accomplishes that task.
"When we go to a customer's site, we do a thorough evaluation of the problem, but we also look for other things that might be wrong," said Edwards. "It's comparable to going to the doctor. The doctor may see something wrong with you simply by asking additional questions. As [the plumber] sees additional problems around the house, he brings them to the client's attention and encourages him to be pro-active in taking care of it. And he educates the client as to why this needs to be taken care of. In most cases, it will save money for the client because you're already there. The client wins and you win."
The Drain Surgeon keeps a history of current customers' properties in its computer, so Edwards and his plumbers can tell if the structure has had roots in its main sewer line, or other types of blockages.
"We try to be as thorough as possible," he said. "So we'll ask questions like 'When was the last time you had this particular drain cleaned?' or 'Have you had any other problems with your drain lines?'"
Edwards likens the free plumbing inspection to add-on sales in other service businesses. "It's something that needs to be done, but usually isn't done by most plumbing contractors," he said. "We think it shows that we're professional and thorough, and that the customer is very important to us. We want to be proactive with our customers."
"This article was originally posted on ww.reevesjournal.com."