There's more than one way to sell plumbing supplies to consumers. Some retail outlets store hundreds of crated and boxed items in a warehouse environment with a smattering on display for the DIY customer. Some contractors will carry catalogs and brochures in their work trucks so consumers can have a look at what kinds of products are available should a replacement become necessary.
The best way to show customers what kind of plumbing supplies and kitchen and bath dress-up items are available, however, is to set up a showroom-basically a retail space in which various items are displayed to their best selling advantage so consumers can select the items they want you to install.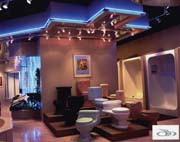 Keeping your products grouped together in departments can help upsell your customers. Photo Courtesy of David Hawkins ASID Design Management.
But there's more to a showroom as an effective and profit-enhancing selling tool than simply slapping a bunch of items around willy-nilly and waiting for the customers contemplating a kitchen or bath remodel to show up. It's retail, man, and retailers have for years studied the subtleties of operating stores and ways to entice customers to buy.
The number of plumbing contractors who operate-or who are considering adding- retail showrooms is growing by many accounts, so we went to a select group of experts to get the skinny on some common ways to make these outlets function more effectively. While this list of tips is by no means comprehensive, they do represent a solid foundation of The Basics of showroom success.
Tip No. 1: Make it a Destination
And "making it a destination" doesn't necessarily mean having the most prime retail location on the street, either. Morton Block, CMKBD, IIDA, president of Morton Block Associates, a Kennett Square, Pa.-based kitchen industry training and consulting firm that also designs retail showroom spaces, suggested the products on display in the plumbing showroom can serve to make the outlet a "destination."
"The products that we sell are destination as opposed to looking for traffic volume because people don't make the decision to buy our products on impulse," Block said. "If someone's planning to remodel a kitchen or a bathroom, they may go off the beaten path. Being in a heavily trafficked area can only be an asset, but people who are ready to spend larger dollar volumes to buy these types of items will go an extra block or two. We have destination products."
Hank Darlington, of Darlington Consulting in Sacramento, Calif., said not stocking the same run-of-the-mill items as the local home store is key: "A good diversification of product is important," he said, adding that sticking with only the major brands is limiting to your profit potential because everybody sells those products.
"Be an important partner to your vendors. If you're representing 15 different faucet lines you aren't important to anybody," Darlington said. "Narrow that down to four or five where you can buy more and better. If a vendor is selling the Big Box stores and every wholesaler out there, you may need that product, but I'm going to look for somebody who really cherishes me as a partner who will give me great service and a deeper multiplier."
Tip No. 2: Make Your Displays Customer-Friendly
David Hawkins of David Hawkins ASID Design Management, Inc., in Akron, Ohio, said the business of buying and selling plumbing products in a showroom environment is all about the, "warm fuzzies," meaning that customers not only want to see the products, they want to feel them as well.
"It's all about the senses," Hawkins said. "I would never display anything higher than 7 feet high because customers want to feel the finish, especially the metal finishes on the faucets. How do the handles work? When you turn the handles are they smooth like a door on a Mercedes or are they rough? It's OK to have accessories that are out of reach-towel bars and toilet paper holders and things like that that have the same finish as the faucet. At least you can touch the finish somewhere."
Another way to make the displays customer-friendly is to make the whole store customer-friendly, according to Darlington. Meet and greet customers when they come in. Upgrade your refreshment cups to ceramic from Styrofoam. And, most importantly, make the whole store female-friendly.
"About 80 percent of the people who start the selection process are women. I would definitely cater to the 35-plus year-old woman driving a BMW or Mercedes," he said. "Everything you do from the 'customer-friendly' point of view needs to feel good to that person. Have a clean and nice public restroom. Have your people dressing nicely. Go for business casual and no jeans or shorts-professional dress. And it absolutely blows my mind how many people sit at their desk and never get up and go over and greet their customers or talk to them. That's all part of professional selling skills."
Block added that your displays should also tell a story. For example, if you offer financing, Use a small piece of signage to tell them how much the particular display is going to cost per month.
"Don't clutter it up with literature but have it available," Block said. "Use counter cards to tell the story. One might even mark a certain display with a little sign that reads, 'Current Trend'."
Tip No. 3: Use Windows for Visibility or Displays, Not for Signs
Clean and uncluttered are the watchwords here. Windows are so potential customers can see inside the showroom, not for signs.
"I can't stand that," Darlington said. "I don't know how many people use the windows to look into the store. But, if you have windows, use them for displays and don't garbage them up. The same thing goes for doors-just put your hours of operation there and that's it. Don't put credit card or manufacturer stickers."
Windows are part of your showroom's image. And, since they're the first thing people will see, you'll want to make sure they tell a good story about your business.
"A window is exactly what it is-a way for people to see what you have," Block said. "It's a bugaboo of mine-sometimes I look in windows and see displays that aren't complete. I call it 'Stock Robbing'-they'll pull the handles off a cabinet because they need them for a job or a faucet's missing or something. People will have to ask themselves what kind of image they want to put out there."
According to some, windows can be a detriment to a showroom and should be avoided altogether, if possible. Hawkins said the only window that's of use at a showroom is one that can be boxed off and used for a display.
"I really hate windows in a showroom," he said. "Natural light is your worst enemy to showing your product. The sun gives different degrees of lighting throughout the day and weather conditions also change so you constantly have to fight that [with your lighting.] You can completely control your lighting if you have no windows. The only window I would like is one where we could have a great, high-powered display we can illuminate at night."
Tip No. 4: Use Professional-Looking Signage
Your talented young niece or nephew may be quite the sensitive soul, an artist with a flair for layout and wonderful calligraphy skills. But don't enlist them to make up signage for your store using colored markers on fluorescent poster board from the stationery store. No matter how "good" the final result, it will look amateurish and sloppy to your customers. And that's an image you want to avoid.
"Always use professional-looking signage," Darlington said. "They do this hand-written stuff and handwriting varies tremendously. Either have it done professionally or get the equipment you can use to do it yourself. Also, keep it consistent throughout the showroom."
And, when manufacturers are kind enough to provide you with point-of-purchase display materials like cardboard standees, shelf talkers, signage, stickers and all that other swag, just thank them and then put it all in the back room. Just because that stuff's both free and professional looking, it doesn't mean you want to clutter up your showroom with it.
"I don't like that stuff. I don't like brochures, either," Darlington said. "I like the displays to feel like home. If you're going to have a bathroom vignette with a pedestal lav and a toilet, you also ought to have towel bars, T.P. holders and maybe a dish with a bar of soap in it. If you have a lot of other crap lying around, it doesn't feel like home to me."
Hawkins explained that a plethora of free advertising and display materials from manufacturers can clutter the customers' eyes. Then they'll be looking at all that stuff and not the products you offer for sale.
"What you want to do is eliminate various types of display materials and stick to one standard format so the product is center stage and that is what your customer focuses on," Hawkins said, adding that manufacturer-supplied sell sheets can be useful. A great tip for using this type of material is to frame it like a piece of art, or even have a few laminated and store them in bins near the products: "Then they become an embellishment to your showroom and not the driving force behind it," he said.
 
Tip No. 5: Use the "Store-Within-a-Store" Concept
Simply put, this means creating departments. This way customers don't have to wander through the whole store you see your products.
Another trick is keeping related products adjacent to each other. For example, keep the bath accessories near the faucets which are near the lav sinks which are near the mirrors which are next to the lighting fixtures, if you have them. This can help upsell customers into purchasing virtually an entire remodeling job rather than just ones and twos.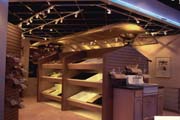 Want to call your customers' attention to a specific product? Put it at eye level. Photo Courtesy of David Hawkins ASID Design Management.
"Too many people will spec out the faucetry and forget the bath accessories," Darlington said. "That adds up to a lot of money and every bathroom has them. Sell the faucet along with the matching look-alike accessories."
Tip No. 6: Keep it Spruced Up
Of course that's daily maintenance-vacuum the carpets, dust, sweep the entrance, keep the cigarette butts and candy wrappers by the entrance policed up, keep paint chips on the wall touched up, straighten up and put away sales materials that are laying around adrift. But there's more to it than that.
First, if you have a parts counter that caters to working plumbers and techs, for example, try and keep it as separate as possible from your retail space. After all, you wouldn't want a sweaty, grimy tech fresh off a job waking in amongst your "civilian" customers so he can buy a P-trap for a job he's working on across town.
"That's all part of the image," Block said. "If your showroom is sloppy and dirty people will think your work is that way, too."
Hawkins agreed, saying the last thing you want is for Bubba the Plumber to walk in-or wait on-Mrs. Gotrocks whilst she is selecting new furnishings for her dream master bathroom suite.
"Look like a professional-you want the 'Wow!' factor," Hawkins said. "You want the customer to think they're in the right place and surrounded by professionals and not some kid with an orange apron and a nametag. This is not a warehouse; this is a jewelry store or, actually, a Gallery of Fine Furnishings for the Kitchen and Bath Environments.
Another trick is to mix it up-don't be afraid to rearrange the stock in the showroom every once in a while. Highlight new things, move your department to new areas of the store and generally create a "new store" feel to the place.
"I think a showroom probably should change 25 percent of its look-and product-every year, Darlington said. "Over the course of four years you wind up with a new place with new products. Colors and styles and finishes come into and go out of style. Once you have a good layout and design in the showroom you can change it by bringing in new products, painting and accessorizing."
Tip No. 7: Analyze the Traffic Flow Within the Store
"That's real important-you don't want people to wind up feeling trapped," Block said. "I wouldn't try and force them into some geometric design of traffic flow because you're going to be limited by where the four walls are. One local store, when it first opened, forced you to walk to the right and make this loop around. That annoyed me because the item I wanted was over to the left. I don't want obstacles and I don't plan or design obstacles in showrooms."
Block said you will want to consider creating nice, wide aisles in your showroom, preferably at least 60 inches wide: "That's the room it takes for a wheelchair to make a 360-degree turn," he said. "That also allows people to feel they can step back and look at an item and not be trapped, and gives you sightlines so you and your customers can see through the store."
Darlington suggested placing preferred products from preferred vendors toward the front of the showroom: "And those preferred products should be displayed between 3- and 5-feet high," he said. "That is the prime area where there eyes go when people are walking through a store. I put the lower-end products toward the rear of the store and kept the products I really wanted to sell up front."
But just because you've put your lower-end products toward the rear of the store doesn't mean you don't want people going back there. In fact, you'll want to entice them to go back there to see what's available. Again, it's all a function of the overall experience of visiting your showroom
"It should be a journey so that there's something exciting around every corner," Hawkins said. "A good tip is to have something at the far end of the store that will attract their eyes. Have a visual anchor back there that will take people on the journey. A colorful lav 'garden,' for example, or something that's visually exciting. Color is one of the great things in the showroom. People often ask me how to sell more color and I tell them to just show it. You have to have it on the floor."
Tip No. 8: Know Your Return-on Investment 
The experts agree this is probably one of the most important aspects to showroom success. It's basic retailing (and it DOES involve some arithmetic) but how can you measure success if you don't know your ROI? Most people don't have a clue what their return per square foot might be, Darlington said.
"You have to do an inventory and a vendor analysis report at least once a year and you need to track it," he said. "If it doesn't sell it needs to go. I think it's OK to have one or two of what I call, "Wow!" displays-the things that'll knock your socks off. Some of that stuff isn't going to be fast-turning, but other than that, you need to be tracking what sells and what doesn't and getting rid of the stuff that doesn't."
Block agreed: "If I dedicate 100 square feet of space to a product, is it paying for itself? There are all sorts of different formulas to calculate this," he said. "The individual will have to determine the gross profit margin he's looking for and then compute the break-even on that. I think it's critical for people who own and operate showrooms to be aware of the ROI."
Tip No. 9: Use "Good, Better, Best" Merchandising
In other words, have a low-end line of products, a mid-grade line and a high-end line. Why? People like choices. Also, people are easily sold on the 'Better' level of products because they perceive value at that level-they're not buying the base unit, but they're not stepping into what could be perceived as excessive frivolity, either: "Marketing the 'Better' is really the trick," Block said.
"Those are the three components of a well-merchandised showroom," Block said. "They should be intermingled, also. I don't like to see all the 'Good' in one section, all the 'Better' in another and all the 'Best' in still another. Well-designed places might have inexpensive cabinets with granite countertops on them."
That sort of shows the customer how it's possible to have some nice stuff without breaking the bank in other areas. "And that makes it way to up- or even downsell. I always recommend putting the emphasis on the 'Better' products because the step down to 'Good' and the step up to 'Best' isn't as big."
Hawkins agreed, saying that, "Good, Better, Best" marketing is just like selling breakfast cereal in the supermarket.
"I did a concept for a store that had in excess of 300 faucets on one pod in the design," he said. "I made them nondescript as far as brand names-I put the showroom's name and logo on them. We put the builder's series on the lower part of the display and we put the best and best-looking right at eye level where people could touch them."
There is a new school of thought that's been making inroads into the retail arena for several years in all sorts of different stores. And that's called, "Better, Best" marketing-just ignoring the lower-end products in your showroom altogether.
"I think you pick 'Better' and 'Best'," he said. "I don't think you can be all things to all people with the amount of stuff that's out there today. How can you be consistent with your image or marketing if you're trying to do 'Good, Better, Best'?"
Tip No. 10: Lighting Can Work Wonders
Frankly, lighting in your showroom can make or break the whole deal. Darlington said you want to avoid general fluorescent lighting like the plague. In fact, it's so important, "This is an area where you may want to hire a professional," he said.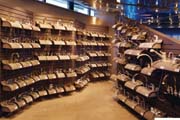 Notice how this showroom display is lighted to show the products to their best advantage. Photo Courtesy of David Hawkins ASID Design Management.
Maybe. Products that don't look good aren't going to sell, pure and simple: "I wouldn't use a fluorescent fixture anywhere in my showroom-they're horrible," Hawkins said. "I will use them for undermount sink displays because all you're trying to do is illuminate the display."
But be aware that effective lighting doesn't have to be expensive-you can use the most inexpensive track lighting fixtures available. The key is spending the money on the bulbs themselves.
"I came from the jewelry industry," Hawkins said. "There, in an 1,100 square foot showroom, we'd spend $80,000 on lighting. What we're doing in plumbing is selling jewelry for the home. Use the most expensive [bulbs] on the metal finishes. They will make your 'jewelry' look the best. Use the line voltage based halogens on the tubs, water closets and other things you want to sparkle but aren't as reflective. The need for high lumen output isn't as great for those things."
Block suggested making sure customers aren't flashed directly in the eyes by your lighting when they turn around: "That requires some sensitivity," he said. "Track lighting is a good way to call attention to something you want to be featured."
"This article was originally posted on ww.reevesjournal.com."