New Products
Rothenberger hydraulic roll groover
Rothenberger's
Rogroover 2"-12" Hydraulic Roll Groover machine is capable of roll grooving 2" to 12" steel pipe up to Schedule 40.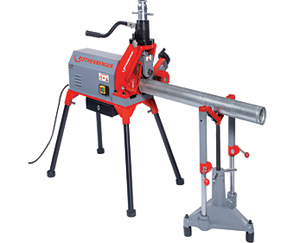 It comes with a heavy-duty roller pipe stand with a maximum load support of 1,300 lb., up to 14" pipe capacity and an enclosed cabinet. It is designed with a hydraulic pump, defined formed grips for handling, and offers fine adjustment grooving. It also has a pressure value. It comes with a 110V motor with a speed capacity of 23 mph and maximum pressure of 17,636 lb.


I want to hear from you. Tell me how we can improve.