✕
PERC (Propane Education & Research Council) presented Ruby's Inn with its coveted Energy for Everyone Hero Award on Sept. 14. The ceremony was held on the rim of Bryce Canyon with representatives present from Ruby's Inn, Blue Star Gas, Rinnai and KEVA. In spite of the fact that it was 94° F in Las Vegas, where my four-hour drive began, it was a cool 58° F during the award ceremony because Ruby's Inn is located 8,000-feet above sea level.
Ruby's Inn in Utah consists of 19 buildings, 700 guest rooms, three restaurants, two pools with whirlpool tubs, retail stores, car wash, pay-as-you-go coin-operated laundry, laundry building where they handle 19- to 20-tons of laundry daily and a campground and RV park with bathhouses and showers, all situated on 2,300 acres next to Bryce Canyon National Park. Not all was sunshine and roses, however, as Ruby's Inn was having domestic potable hot water issues.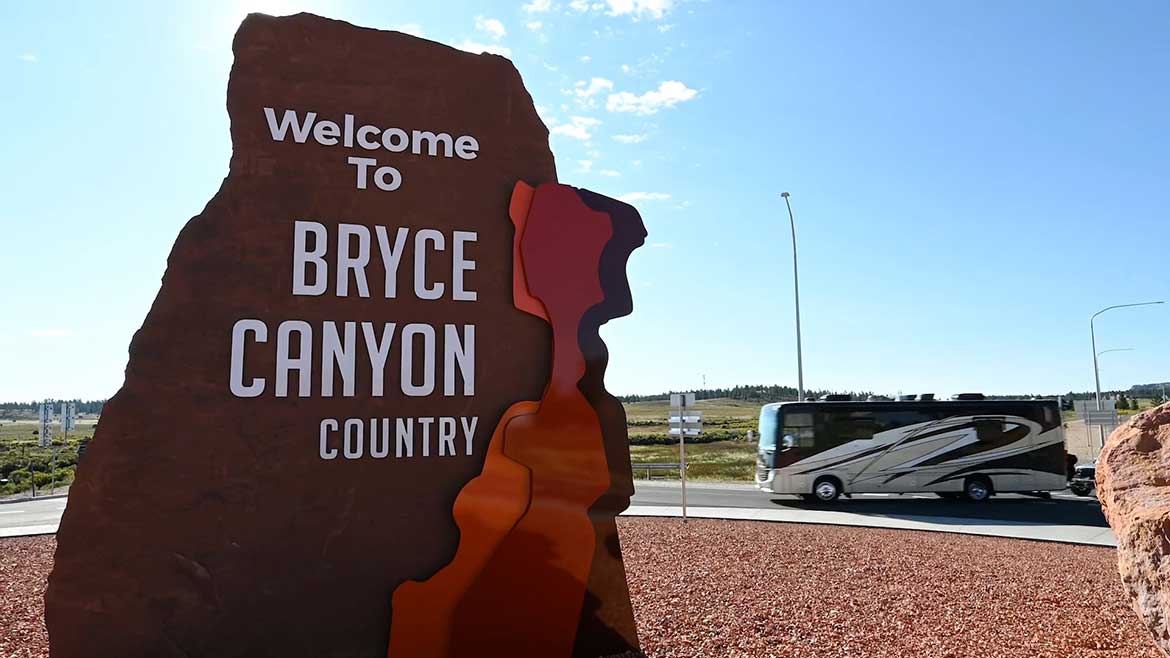 Ron Harris, health and safety director at Ruby's, provided background: "On any given day during the height of our tourist season, we can see as many as 12 busses arrive every day. It is not unusual for us to be at maximum capacity with 4,000 guests. I've been here for 30 years, and during the first 25, we would consistently run out of hot water. Guests were less than thrilled to check in only to find no hot water in the shower, or come back after a long day exploring Bryce Canyon with the expectation of a nice hot shower and find no hot water. We were losing $60,000 every year for room refunds or discounts because of our hot water issues."
Harris also serves as the local fire chief and Ruby's Inn has a first-class fire station that Harris designed and manages. He also runs ambulance calls and had to excuse himself to respond to an ambulance call during dinner that evening. Duty calls!
Karl Munford, chief engineer at Ruby's Inn, grew up in the area and began what would be his career at a very young age. His father was a contractor and his uncle was an electrician. By age eight, Munford was helping either his father or uncle on a wide variety of service calls. Munford was an outside contractor Ruby's Inn often used because he could handle pretty much any crisis or task needing attention. Munford was hired to oversee a room-remodeling project already underway.
"There was a tight deadline to be met, and I knew almost immediately that the progress was lagging behind and the deadline would not be met. Any delay would directly impact Ruby's bottom line because the rooms were already reserved and, with no spare rooms, that deadline had to be met! I met with Rod Syrett and told him there were issues. Styrett asked me what could be done. I told him if he put me in charge with the power to hire and fire, that I would reshape the crew and personally guaranteed we would meet the deadline. We beat that deadline by three days!"
A few weeks later, Syrett asked Munford to stop by, which was, as it turned out, an interview for becoming a fulltime employee.
Munford manages a crew of sixteen to handle all manner of repairs that include plumbing, heating, air conditioning, electrical, drywall, flooring/carpeting and painting. Together with Harris, they represent a well-coordinated team and it was obvious they not only work well together, they genuinely like and respect each other's abilities.
Lance Syrett, the general manager, stressed: "Here at Ruby's Inn, employees live and work here because of our remote location and we treat everyone like family."
Without exception, everyone working at Ruby's was outgoing, friendly, and went above and beyond to ensure guests enjoy an outstanding stay.
Harris spoke about the issues from his fire chief perspective: "We had what I would call open-flame boilers, which kept me up at night worrying about the potential for fires, and we had several, but thankfully no major damage occurred. The problems with our potable hot water were compounded by repeated breakdowns and boiler failures."
Munford quipped: "You have to know we're basically in the middle of nowhere at Ruby's Inn. The nearest supply house is two hours away. Even if we had the parts on site to affect repairs, the guests went without hot water for hours. If I had to call in an outside contractor, it could be three days before they would arrive." Their backs were clearly up against a wall.
In addition to the painful negative impact losing $60,000 in revenue each year represented, there were hidden costs that negatively affected Ruby's Inn's bottom line. Guest that would never return; negative online reviews that likely caused potential guests — both previous and new — from booking a stay; and the fact that Munford's crew and he were devoting half of every working day to keep the boilers up and running.
Steve Rutherford, Blue Star Gas division manager for propane sales and service, knew about the potable hot water issues at Ruby's and suggested to Harris and Munford he contact Rinnai to consider devising a solution. Rutherford, Watts and Rodriguez met with Harris and Munford to tour the complex and surveyed the equipment. With approval to develop an engineered solution, Michael Prayoonvech, a young engineer with Rinnai worked his way through each building while engineering plans to supply an endless supply of potable hot water. "His final binder was about two inches thick," Harris remarked.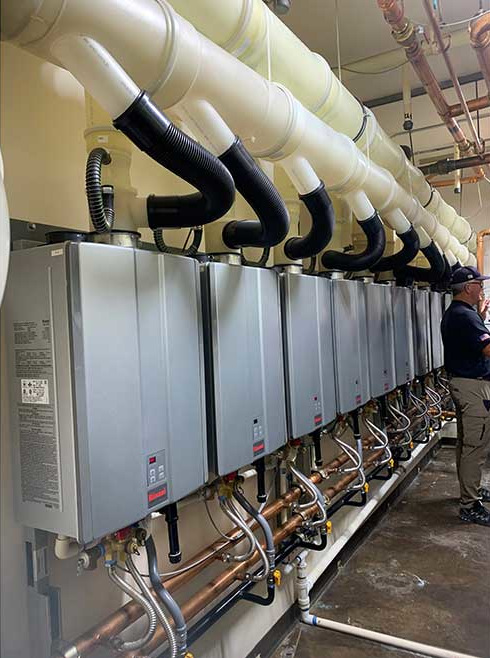 Watts and Rodriguez followed up with a sales presentation. Harris noted: "Instead of a hard-sales arm-twisting sales call, they simply presented us with their tankless water heater's functions, how rack systems worked, controls to give each single tankless water heater equal run time along with a forecast of savings that we could expect."
Munford said Ruby's had one boiler go down that would have to be replaced. Harris noted: "It basically self-destructed! There was no external damage, but clearly that boiler was beyond repair. So I made an on-the-spot executive decision and gave Munford the green light to order a Rinnai tankless water heater rack and get it installed ASAP. I knew I would have to answer to the executive board of directors at Ruby's, but this was a case where it would be better to ask for forgiveness, rather than permission."
Munford told me: "The best thing about the Rinnai rack system was the fact that we could install it while keeping the existing boilers online. Then, when it was time to switch from the old system to the Rinnai racked system, we only had one-hour interruption because we used ProPress fittings for the completion of the changeover."
Teamwork
While Munford and his crew handled the rack installations with Rinnai C199 tankless 97% efficiency water heaters, electrical work and water lines, a team from Blue Star Gas deftly installed the propane gas lines and flue exhaust piping. After only four months, the building with the Rinnai rack systems was the only one with zero potable hot water issues. Ruby's Inn decided to tackle the rest of the complex's potable hot water problems, giving Blue Star Gas the go-ahead for the more than $750,000 project!
"It just made sense for us to move forward with this project," Syrett said.
The initial installation included 35 rack systems housing 175 propane-fired C199 Rinnai tankless water heaters, and four duo hybrid tankless-paired-to-storage-tank systems where sudden large demands are located, like the carwash and coin operated laundry. Today, they have expanded to 214 pieces of Rinnai high-efficiency equipment.
Two of the older boilers have also been replaced with two Lochinvar propane-fired 96.2% efficiency Crest boilers with a 25:1 turndown ratio that work in tandem.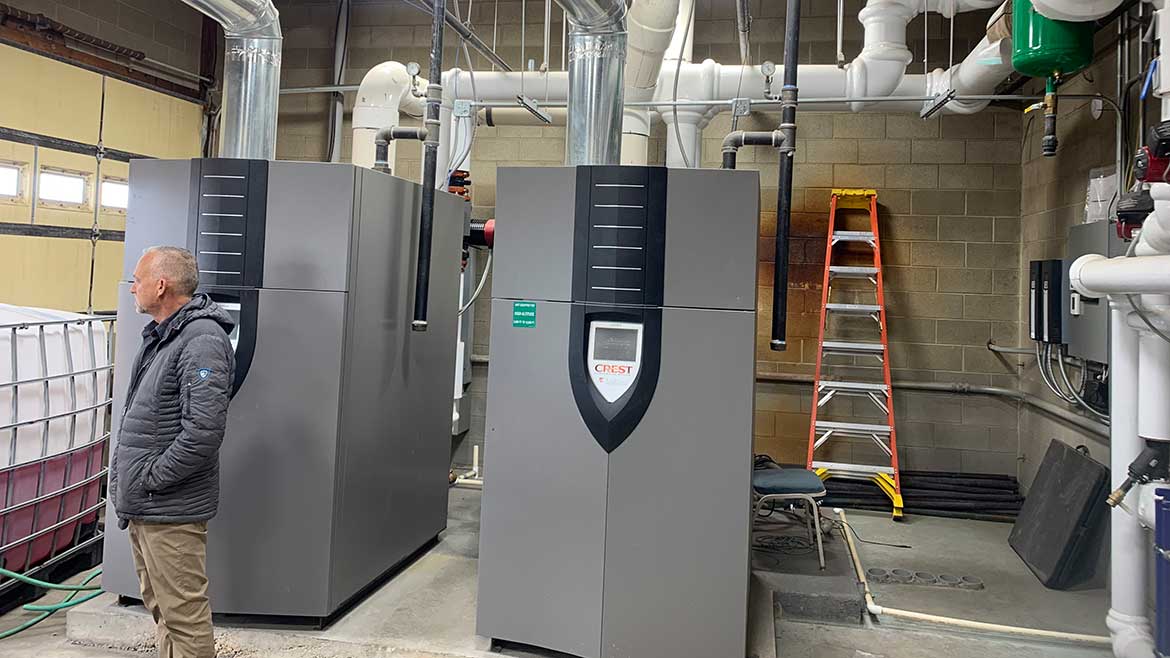 "Prior to the two new Lochinvar boilers, this was a favorite employee hangout because the old boilers kept this room very warm," Harris said. "After the new boiler installation, standby heat losses rendered the boiler room so cold, we actually had to add some heat emitters to warm the room!"
Syrett spoke about how Ruby's Inn, starting with his great-grandfather, has been a good steward of the environment and has actively supported Bryce Canyon National Park with funding various programs. "Utilizing a clean burning propane fuel fits nicely with that effort," he added.
---
---
Harris explained: "Our propane usage was reduced from 425,000 gallons per year to 380,000 gallons per year, but it is important to know we also expanded usage during that time by adding several snow-melt areas to enhance safety and stop using ice-melting chemicals that were hard on the sidewalks, patios and landscaping. The snow-melt systems are automatically controlled by sensors and can be activated manually, too."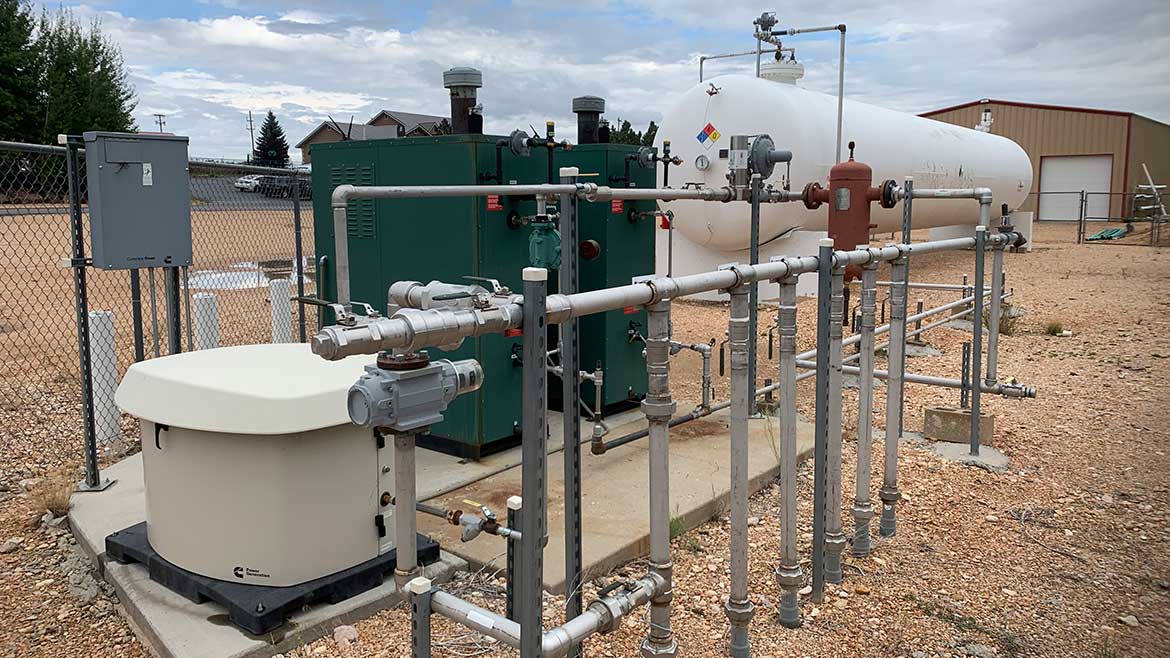 Ruby's Inn upgrades in efficiency for its propane usage have eliminated 5,200 metric tons of CO2, which is equal to the greenhouse emissions of 1,410 gasoline passenger vehicles a year, or 795 homes energy usage per year.
"Being located next to a national park, we always think about our carbon footprint," Syrett said. "We are confident about using propane. It's efficient, it's always available, and it's a clean energy source for us to use."