Mechanical Systems
Green Plumbing and Mechanical
New Products
Featured Product
Fujitsu floor-mounted mini-split heat pumps
Fujitsu's
two lines of high-efficiency, floor-mounted mini-split heat pump systems operate at ambient temperatures as low as -15° F (RLFFH line) or -5° (RLFF line). Efficiency ratings are as high as 26 SEER.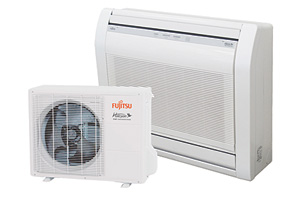 The small indoor units are less than 24" high and 30" wide. Systems are available in 9,000, 12,000 or 15,000 Btu single-zone models or in multizone configurations. All systems provide wide, two-fan airflow. Standard features include a wireless remote control and many operating modes. All systems are Energy Star-qualified.


I want to hear from you. Tell me how we can improve.