RIDGID's new 238-P Powered Soil Pipe Cutter is lightweight (13.5 lb.) and compact (11 1/2" long). It was designed to make it easier for plumbers and mechanical contractors to quickly cut soil pipe in hard-to-reach spaces such as those in the rafters of a building or below grade.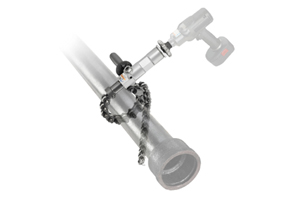 Designed for use with a 1/2" impact driver, the 238-P incorporates a chain that can effortlessly cut no-hub cast iron, service weight cast iron and clay pipe up to 8" in diameter and concrete pipe up to 6" in diameter. Its 11 1/2" length, removable handle and low-profile cutter wheels provide the versatility to work with inconveniently placed pipe.
Additionally, the 238-P's unique, two-directional operation lets users score pipe before cutting, helping make the cut cleaner. And, as a safety precaution, the tool's torque limit (patent pending) protects it from overloading.
The RIDGID 238-P Powered Soil Pipe Cutter is backed by the RIDGID full lifetime warranty against material defects and workmanship.
---
HELPFUL LINKS: