New Products
Featured Product
Side wall radon mitigation system for existing homes
Tjernlund Products' Radon VAC reduces radon levels in homes using side wall venting and includes a plug-in fan, exterior hood and installer-purchased PVC pipe. Because the Radon VAC side wall system evacuates through the basement side wall, homeowners can avoid having PVC pipe run vertically through living areas or outside of their homes to the roof line.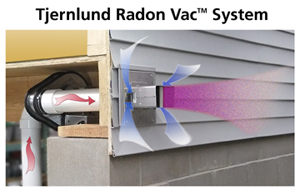 It is engineered to reduce radon across a variety of subslab soil types. The low profile, corrosion-proof Radon VAC Variable Aspiration Control Hood dilutes the radon gas with fresh outdoor air as it exits the hood and safely propels it away from the structure.
---
HELPFUL LINKS:


I want to hear from you. Tell me how we can improve.