Backed by decades of use in residential plumbing applications all over the world, crosslinked polyethylene (PEXa) pipe is tried and true. The durable and flexible properties of PEXa allow for savings on installation time and materials while demonstrating long-term advantages, such as scale resistance, for excellent flow performance. To maximize the installation and performance advantages of a PEXa plumbing system, your fitting choice matters. Here are the top three reasons you should choose cold expansion fittings with compression-sleeves (compression-sleeve fittings) for your next PEXa plumbing job.
1. Stay on schedule with immediate pressure testing
Compression-sleeve fittings will make others wonder how you finished that project ahead of schedule. Compression-sleeve technology allows for immediate pressure testing – any size, any temperature – making it the industry's fastest plumbing installation method. Home Innovation Research Labs put compression-sleeve fittings to the test in a three-day time study to compare installation times across fitting types. They found that compression-sleeve fittings installed 21% faster than PEXa with F1960 cold expansion fittings.
On jobsites, compression-sleeve fittings have helped plumbers and contractors keep their projects on-track. "If it's cold or wet – or both – you can make your connection and go," said David Isbell from Bonham Plumbing. "Once you put the fitting together, you're done. You can walk away and turn the water on."
2. Secure connections help you avoid rework
With a textured compression sleeve and four sealing edges, compression-sleeve fittings provide layers of protection from leaks. The textured interior of the PEXa compression sleeve allows for an extreme grip and immediate seal. To further protect your plumbing job from leaks, compression-sleeve fittings offer quick visual verification of a completed joint, so you can be sure your connection is secure and assembled correctly.
Compression-sleeve fittings also provide a dependable assembly technique that helps you create solid connections consistently. No matter the weather condition or pipe size, all that is needed is two expansions and one compression. After a few connections, your team will master this consistent technique that saves installation time and contributes to a secure system.
3. Ace tricky installs with configurable tools and an all-weather fitting system
Compression-sleeve fittings help you get the job done with ease, even in tight installation spaces or chilly jobsite conditions. Compact, configurable battery-powered tools paired with compression-sleeve fittings make tight installation spaces a breeze to navigate. The power tools easily overcome installation challenges with 360-degree rotating tool housing and multi-position compression jaws.
In the winter, you can forget about keeping PEX rings in your pocket or waiting on fittings to seal in frigid temperatures when you choose all-weather compression-sleeve fittings. Once the sleeve is compressed over the fitting and pipe, you are ready to move on. Jake Albertson, owner of Bighorn Plumbing & Heating, describes how compression-sleeve fittings helped him ace a chilly residential installation in Idaho, "It's easy to put the fittings together, even in cold weather. It's cold out here today and the fittings are going together great – once you get them together, they're secure."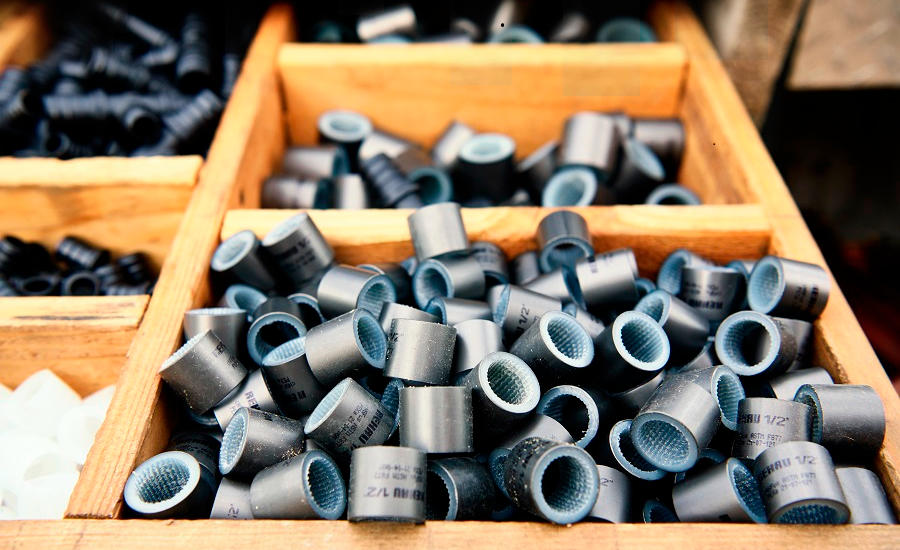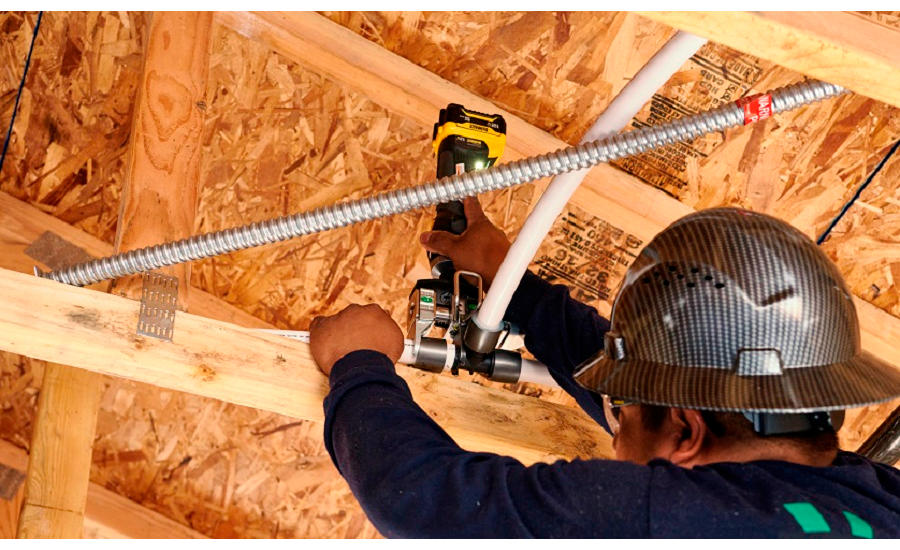 Pairing PEXa pipe with compression-sleeve fittings gives you quick connections while minimizing common installation challenges that can lead to plumbing system issues down the road. Choose compression-sleeve fittings for your next plumbing installation so you can head home early or move onto your next project with confidence.
Looking for compression-sleeve fittings? REHAU pros are determined to help you find the right fit. With relationships built for the long-haul, our word is as good as yours.
Check out EVERLOC+®, REHAU's proprietary cold expansion compression-sleeve fitting: https://www.rehau.com/us-en/everloc-plus-compression-sleeve-system.